Welcome! It is a privilege to care for our patients, and we are always excited to meet someone new. Here is where you can find out what to expect on your first visit (especially if this is your first chiropractic appointment ever!) browse some FAQs, and learn more about Chiropractic.
How to make your first visit a great one:
(1) Before you come in, please print and fill out our New Patient Forms.
(2) If you're using insurance, be sure to bring your current card. If your plan requires a referral, you must bring that with you as well. If you are being treated for an auto accident or personal injury legal case, be sure to inform our staff.
(3)If you have any recent images (x-rays, MRI) that relate to your condition, bring them with you.
(4) When possible, wear comfortable clothing that allows for full range of motion.
(5) Your first visit will require time to discuss your health history as well as your current status. We will conduct an examination at this time. Please allow extra time for all of these things.
(6) X-rays, if necessary, can often be taken in our office. On occasion, it is necessary to refer a patient to an outside imaging center for more extensive investigation before treatment can begin. Please keep in mind that sometimes x-rays aren't necessary at all, it depends on the specific patient.
(7) Before an adjustment, most patients will sit with a hot pack on the affected areas for a few minutes. This relaxes the patient, while also relaxing the muscles and preparing for the adjustment.
(8) Patients benefit from hands-on adjustments and spinal decompression in our office. The order that procedures are done with vary on a case-by case basis, but adjusting the spine to bring the vertebrae back into alignment should be the goal of any chiropractic visit. Spinal decompression will then help improve mobility, alleviate pinched nerves, and halt disc degeneration.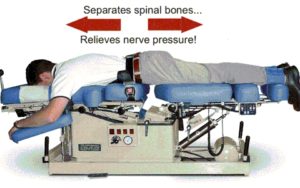 (9)Additional therapies, such as ultrasound to break up scar tissue or electronic stimulation, are given on an as-needed basis. Dr. Mack will discuss with you why these additional treatments are or are not right for your case.
(10)Congratulations! You are on your way to correcting your spine to alleviate stress, pain, and discomfort!
Still Have Questions? We have an extensive FAQ section about chiropractic.
Click here if you want to learn more about the history of Chiropractic and Chiropractic in general.